Meet the mad geniuses responsible for Cerberus Development, Inc.. Combined, Nick and Terry have more than 25 years of experience in business management, managed I.T. solutions, project management, business financials, development, and marketing. Want to know more about them personally? Read on...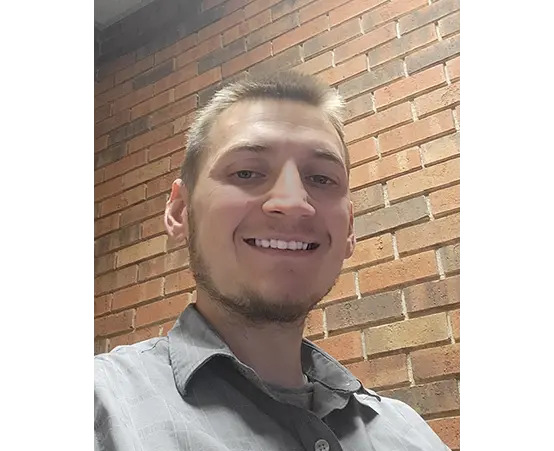 Nick is an accomplished financial consultant with a wealth of knowledge and expertise in business, finance, and IT. With years of experience in the field, Nick is an expert in leveraging cutting-edge technologies to help you grow your business and achieve your goals. Whether you're looking to streamline your operations, optimize your finances, or enhance your online presence, Nick has the skills and insights to guide you every step of the way. With his dedication, passion, and commitment to excellence, Nick is the partner you need to succeed in today's competitive business landscape.
Nick has been married to Cami, his high school sweetheart, since 2008 and enjoys a quiet life with her and their English Mastiff named Olly. Some of Nick's hobbies include camping, 3D printing, online video games, wood work, gardening, and of course watching the Chiefs play football. GO CHIEFS!!
Nick currently holds a Bachelor of Science Degree in Business Law and a Master's Degree in Business Administration from the University of Phoenix. Other accolades include:
Microsoft: MCP
CompTIA: A+
Six Sigma - Green Belt
National Mortgage Lending Originator License
ISSA Elite Personal Trainer
American Heart Association Basic Life Support and CPR Certified
FAA Certified Drone Pilot
EMT Advanced, Firefighter I & II, Hazmat Operations & Awareness certified
Certified Lifeguard
Vice-President / Secretary
If you are looking for a guru when it comes to all things I.T., this is your guy. Terry has been a respected member of the I.T. community since 2002 and has grown to be an innovator in the development field. Being ranked within the top 10% of developers for his specialization, Terry has the ability to transform your website dreams into a reality. His passion for development remains constant with each client, whether it be for a Fortune 500 company, or a small family owned business.
Married to his loving wife Rhonda since 2004, they enjoy small town life together with their European Great Dane named Yoda. Hobbies and interest include geocaching, online gaming, Dungeons & Dragons, wood work, and anything else geek related. Most days, if he isn't coding, you can catch Terry & Rhonda on their Harley Davidson cruising the back roads of Missouri. Lovingly dubbed with the moniker "Godzilla" by his wife, he lives up to the name by being a hulking giant of a man you would expect to see operating a piece of heavy equipment. But don't let that fool you...
Terry currently holds a Bachelor of Science in Software Development and a Master's of Science in I.T. Administration from Western Governors University. Other accolades and industry certifications include:
CompTIA: A+, Net+, Security+, Project+
Microsoft:  MCP, MTA - OSF
CIW: JavaScript Specialist, WFA
PMI: CAPM Project Management Specialist
WGU Alumni Association Member
Former Harley Owners Group (H.O.G.) Board Member
CDL Class A with Hazmat, Tanker, and Double/Triple Trailer endorsements